About New York Art
Browse New York art galleries by area and category on your iPhone. Find nearby art exhibitions and events by distance or popularity. You can view details of the exhibitions, price, start and end dates. Gallery details are also included, such as address, opening times and location. Use a map to find gallery locations (and the maps app for directions to get there).
Areas included:
Queens
Harlem, Bronx
Williamsburg
DUMBO, other Brooklyn
Upper East Side
Midtown
Flatiron, Gramercy
East Chelsea
Chelsea 14th - 33rd
Villages
Soho
Lower East Side
Lower Manhattan
You can also browse art shows using these categories:
2D:
Calligraphy, Illustration, Drawing, Graphics, Painting, Photography
3D:
Architecture, Sculpture, Crafts, Fashion, Furniture, Installation, Product, Ceramics
Screen:
Film, Digital, Video Installation
Misc:
Art Parties, Art Talk, Performance Art, Art Competitions
This application uses information from New York Artbeat (http://newyorkartbeat.com) to provide listings for events in the New York area. All listings are provided by New York Artbeat and availability depends entirely on their generosity in providing a free API and upon the availability of their servers. More information about the API can be found here:
http://www.newyorkartbeat.com/resources/doc/api
Some parts of this application use the mobile interface of newyorkartbeat.com to access extended show details and gallery details.
News
Nov 7th: New York Art 2.0 is now available on the app store. There's loads of great new features, go check it out!
Oct 12th: Follow New York Art on Twitter for news
September 10th: New York Art 1.11 is now on the app store. I'm really glad that this version was accepted quickly and that everyone can try it out. There are lots of improvements!
September 6th: I've resubmitted version 1.1 to the Apple app store. I'm hoping this time it will be accepted quickly.
September 3rd: Version 1.1 was rejected by the app reviewers at Apple for one of the search keywords, so I'll remove that keyword and put it back into the queue today or tomorrow. After that, it goes to the back of the line again, and should (hopefully) be ready in two or three weeks.
August 4th: Version 1.01 has been approved and is on sale in the app store. I'll submit the 1.1 update for approval soon. The 1.1 update adds better icon loading (faster) and an improved way of viewing maps. There are some other changes, like improved ordering of categories. It should take a couple of weeks to go through.
July 23rd: Version 1.01, which fixes a bug which was preventing the Nearby function from working, has been submitted to the app store and should be ready in one to three weeks. As soon as that comes out, I'll submit version 1.1, which has many improvements in speed and usability.
Screenshots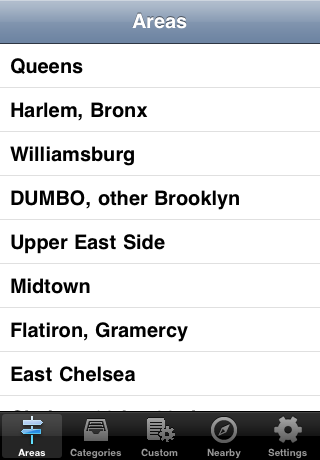 You can browse art events by areas in New York. You can see some of the new icons for Custom lists, as well as settings (There's a large text setting now).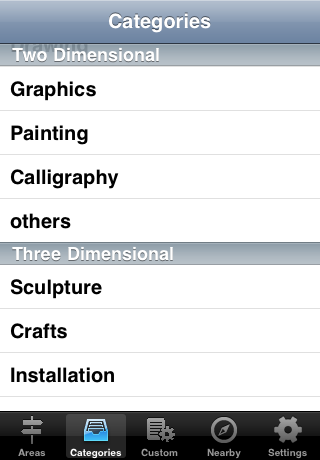 Or you can browse by art categories.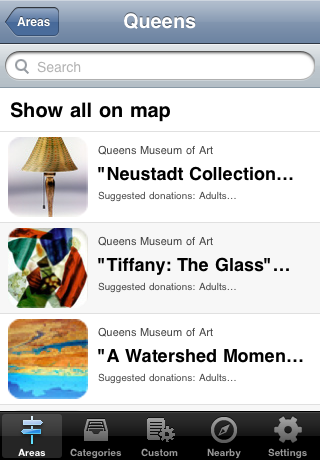 Each takes you to a list of events with some information. New is search and maps. You can view all results or search the list. You can view the filtered list (or all results) on a single map.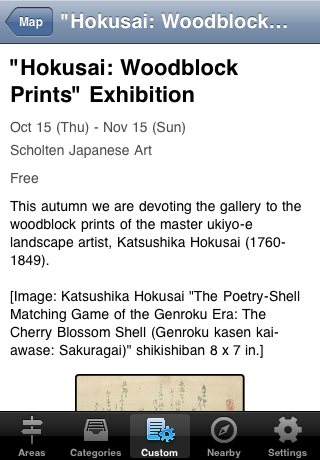 Click on one to find more detailed information, including a great description, opening hours and price. There's also a map button to see the location, including your current position.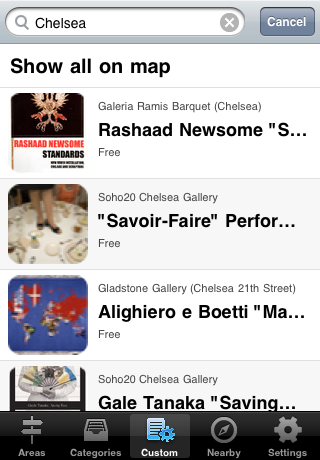 Here's a search term. I'm searching the "Free" custom list for shows in Chelsea. The search works on the description, name and gallery name.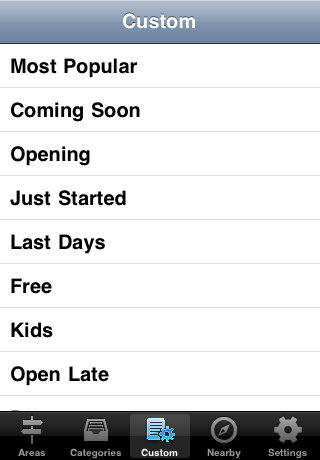 New in 2.0 is Custom categories, tailored lists to help you search for specific things. Free and Open Late bring back a huge list, which can then be filtered.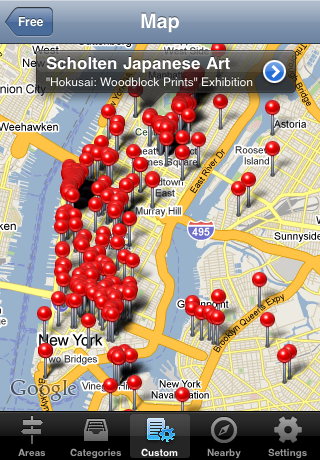 Also new in 2.0 is a great map page. You can access a map from any list, scroll around and view details of any exhibition. It also shows your current location. Look how many free shows there are!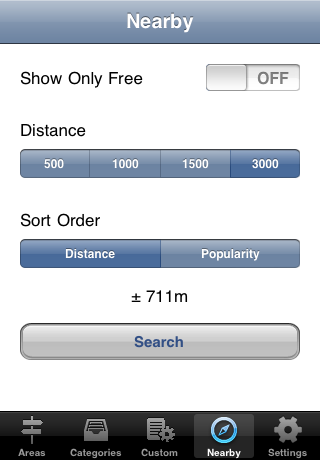 Of course you can still search nearby for shows using the GPS. The results appear in a list, which can then all be viewed on a map. You can still filter for free only, and show results in order of popularity.